The Electra enables you to increase operational efficiency, while enhancing customer service, by dispensing money orders in less than 20 seconds. The operator simply enters a password and dollar amount; Electra automatically calculates the fees, captures report data and prints the money order – quickly, accurately and securely.
Equipment set up is up to you
Electra's modular design and flexible configuration let you determine the set up that's best for your operation.The compact unit can be safely stored out of sight so only the keyboard controls are on the countertop.
Safeguards ensure accuracy
Electra's safeguards ensure accuracy when loading and issuing documents. Up to 1,500 single-ply forms can be loaded in the Money Order Dispenser, reducing down-time and security risks. Serial numbers are reconciled with the pack size as the documents are loaded. Operators are alerted to any discrepancies through the convenient display. The display is also used to double check the total before printing – reducing voids. If a void is required, Electra's Executive-level options let you track and reconcile serial numbers and documents to maintain the integrity of your data.
With Electra you can choose: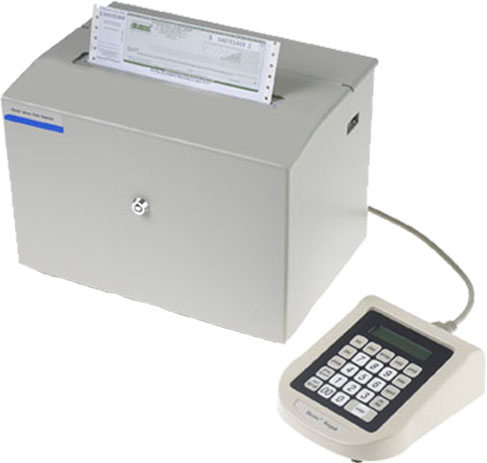 User passwords for up to 64 operators, plus two Executive levels
Document formats – including security features, pack size, document length and stub/receipt layout
Maximum amount limits
Fee tables – up to 10 different brackets for calculating fees